Theta II GDI Engine Stalls and Siezes
Posted on

Tagged
Key Points
The Theta II engine has a long list of problems ranging from bearing failure, engine knocks, and excessing oil consumption.
The GDI engines were also prone to catching on fire, leading to a large recall in 2015.
After the fires, Kia agreed to increase the warranty for the certain vehicles to 10 years / 120,000 miles.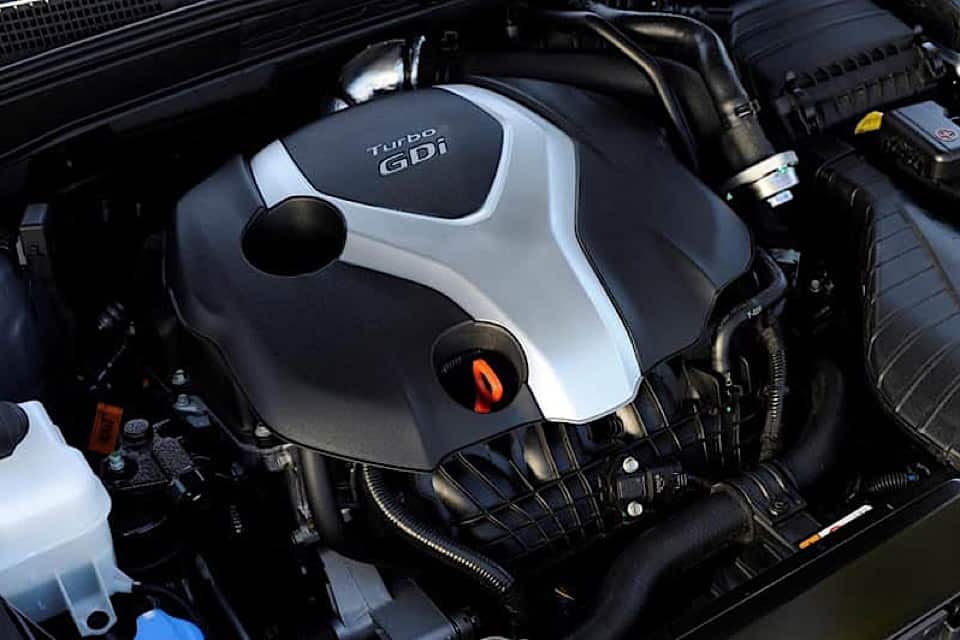 The Theta II is a gasoline direct injection (GDI) engine that is well known for a lot of things and none of them are good. Bearing failure, metal debris riding on contaminated oil, piston ring defects, siezing, knocking, crying.
Manufacturing Problems ∞
It took a long time, but Hyundai and Kia eventually admitted that metallic debris might have been left around the engine crankshaft during manufacturing. That can cause hell on your engine when it comes to oil flow.
In June 2016, a Kia Theta engine lawsuit was filed for owners of the 2011-2014 Optima, Sportage, and the 2012-2014 Kia Sorento.
A Former Engineer Spills the Theta II Beans ∞
A former Hyundai engineer told the National Highway Traffic Safety Administration (NHTSA) that Hyundai was well aware of the Theta II problems, even as they denied it publicly and pushed against a recall.
Generations Where This Problem Has Been Reported
This problem has popped up in the following Kia generations.

Most years within a generation share the same parts and manufacturing process. You can also expect them to share the same problems. So while it may not be a problem in every year yet, it's worth looking out for.
Further Reading
A timeline of stories related to this problem. We try to boil these stories down to the most important bits so you can quickly see where things stand. Interested in getting these stories in an email? Signup for free email alerts for your vehicle over at CarComplaints.com.
Safety regulators are looking into how Kia and Hyundai handled their Theta II engine recalls, specifically if the companies acted fast enough.

They want to know if Hyundai and Kia did enough and fast enough concerning the recalls of nearly 1.7 million vehicles with Theta engines prone to a lot of noise and finally locking up.

At this point, we know the widespread engine problems are caused by metallic debris left behind during mechanical deburring on the assembly line. Those tiny bits of metal are carried through the engine by oil, wreaking havoc on the way.…

keep reading

article "Why Did it Take So Long to Recall the Theta II Engine?"

Kia's Theta 2-liter and 2.4-liter gasoline direct injection engines, also known as GDI engines, are giving owners a ton of headaches by stalling or failing at just about any time.

According to a new lawsuit, these engines contain defects that cause a restriction of oil flow through the connecting rod bearings and other parts of the engines. In turn, the engines can stall without warning.

The plaintiffs say Kia knows about the Theta engine problems, but refuses to freely repair the engines or order a recall. Another Theta II engine case with Sonata owners is awaiting final settlement approval.

keep reading

article "Lawsuit Says Kia Theta Engines Are Defective"
OK, Now What?
Maybe you've experienced this problem. Maybe you're concerned you will soon. Whatever the reason, here's a handful of things you can do to make sure it gets the attention it deserves.
File Your Complaint

CarComplaints.com is a free site dedicated to uncovering problem trends and informing owners about potential issues with their cars. Major class action law firms use this data when researching cases.

Add a Complaint

Notify CAS

The Center for Auto Safety (CAS) is a pro-consumer organization that researches auto safety issues & often compels the US government to do the right thing through lobbying & lawsuits.

Notify The CAS

Report a Safety Concern

The National Highway Traffic Safety Administration (NHTSA) is the US agency with the authority to conduct vehicle defect investigations & force recalls. Their focus is on safety-related issues.

Report to NHTSA